Our fully-loaded acoustic survey vessel is now available for hire! Safe and reliable platform to deploy your equipment.
R/V Tin Lizzy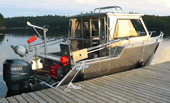 The vessel is a 24 foot Stanley hard-top cruiser, powered by a 4-stroke 250 hp Yamaha. The vessel is made of aluminum to reduce acoustic noise and is outfitted with split-beam and multibeam sonars. It is large enough for the Great Lakes but still small enough to be manoeuvrable and functional on smaller waterbodies.
Did you know? Milne Technologies provides expertise in the collection and automated analysis of ARIS & DIDSON data. What is ARIS or DIDSON?
Bruce Power Nuclear Generating Station Forebay Mapping Project. Read the case study here.
NEW!! Integrated Sonar and Bio-telemetry Technology for positive identification of acoustic targets. Learn about the new Kongsberg-Mesotech M3 Tag Activator System.
Need more info? Download our new 2019 flyer!
Click here to see the Lake Opeongo lake trout
multibeam movies!
We are proud to partner with ATET-Tech Inc., who have developed a new underwater Light Guidance Device (LGD) for fish management applications, that has been designed to work alone or integrated with different fish conservation methods.